NO ADDED FRAGRANCE PRODUCTS
May be used after laser resurfacing, microderm abrasion or chemical peels. Safe for everyday use. Dermotologist Recommended

HEALING HUMANITY ONE BODY AT A TIME
What you put on your skin matters. From dirty air and environmental toxins to nourishing creams, what is absorbed through the skin is transported throughout our bodies. The skin is the largest organ of the body; it is non-filtering and provides many layers of protection. Skin also responds to changes such as temperature, hormones, diet and stress. Herbalix Restoratives™ is an eco-friendly company that develops natural organic personal care products offering therapeutic balance for skin and hair, which are recommended by doctors and other health care professionals. These formulas contain no harmful preservatives, petroleums, or synthetic ingredients. This is why Herbalix™ offers organic and natural alternatives to synthetic chemical and environmental irritants. The products I am about to share with you support these functions with pure, natural and organic ingredients that cleanse and revitalize, while feeding the skin and hair vital nutrients. This proprietary blend consists of certified and wild crafted medicinal grade essential oils, herbs, flowers and minerals from land and sea that are painstakingly prepared over a period of several months.

Herbalix™ Botanical and Sea Vegetable Blend works comprehensively with kelp, coriander and olive leaf to promote the body's own natural, healing rhythms. This complex and potent proprietary blend is a major key to the effectiveness of these products. It synergistically boosts the action of all the ingredients used and works as a superb organic preservative which is made from 60 energetically live herbs and sea vegetables from the world's oceans and three continents, complete with Omegas 3,6,and 9. This enables the development of these safe and stable hybrid formulas which has been scientifically proven to be 99.99 percent effective in reducing germs.

These products are suitable for the chemically sensitive and anyone concerned about chemicals in their personal care products. They are made in a state of the art lab using manufacturing equipment consisting of stainless steel tanks, paddles and piping. No plastic, silicone, and other harmful components are used. The final result guarantees the integrity of these specialty products. Herbalix™span> makes aluminum-free Nighttime Cleansing Detox Deodorant which cleanses and deodorizes while you sleep, organic daytime deodorants, Nubian goat's milk soaps, skin moisturizers and more. These products are synthetic chemical and petroleum-free without parabens, phthalates, fillers, emulsifiers, synthetic fragrance or color, or anything derived from petroleum.
Our NO ADDED FRAGRANCE LINE was designed for individuals who have sensitive skin resulting from the overuse of chemically laden products and for those who experience olfactory sensitivities as a result of over exposure to synthetic chemical fragrances.

Our skin care system is a balanced diet for the skin, formulated to cleanse, hydrate, protect and replenish. They are free of synthetic chemicals and petroleum.

We use wholesome ingredients that work without the use of harsh chemicals, artificial color or fragrances. Naturally derived products provide long-lasting results; they contain ingredients the body recognizes.

Daily use of NO ADDED FRAGRANCE SOAP, SUPREME SOLUTION MOISTURIZER and DEODORANT helps keep skin clear and in balance, protecting the levels of moisture and hydration so skin remains healthy and radiant.

BEFORE USING NO ADDED FRAGRANCE DEODORANT, IT IS IMPERATIVE THAT YOU USE OUR NIGHTTIME CLEANSING DETOX DEODORANT TO PURGE YOUR UNDERARMS OF TOXINS; OTHERWISE, YOU WILL NOTICE A BODY ODOR DUE TO THE TOXINS THAT ALREADY EXIST IN THAT AREA.
Also, the daytime deodorants come in mild scents of Germanium Rose (DDROSE25 or DDROSE47) and Tropical Cove (DDTC25 or DDTC47.

BENEFITS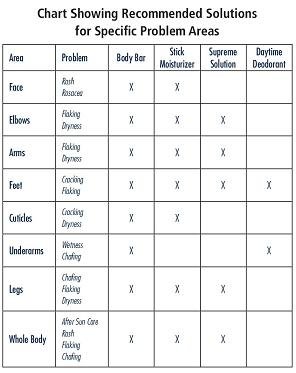 TOP
A concentrated moisturizer formulated without water. Instead it is formulated with a rich blend of oils that contain nutritional essential fatty acids, amino acids, and vitamins which have been shown to support natural skin cellular regeneration.

BENEFITS
KEY INGREDIENTS
Pumpkin Seed (Cucurbita Pepo) is one of the most nutritional oils available and an excellent source of essential fatty acids,
antioxidants, vitamins and sterols. Especially high in vitamins E, A, C and zinc.

Rice Bran Oil (Oryza Sativa) is high in fatty acids and rich in unsaponifiables, rice bran oil has anti-oxidizing properties. It is excellent for use with mature, delicate or sensitive skin.

Meadowfoam Seed Oil (Limnanthes Alba) is recognized for its outstanding oxidative stability and contains over 98% long-chain fatty acids. Widely sued in cosmetics and hair care applications because of its stability, lubricity and ability to adhere to and stay on the skin. Moisturizes and rejuvenates the skin and adds shine to the hair. It provides protection for skin and hair.
Carrot Seed to name just a few. This formula contains NO water. The unique combination of oils penetrates deeply and hydrates thoroughly, and is:
The proprietary Herbalix

™

Sea Blend Preservative System is a complex and potent herbal/botanical tincture with origins in Chinese, East Indian and Native American traditions. This organic preservative consists of a proprietary blend of herbs and plants harvested from the land and sea. The manufacturing process takes eight weeks to complete. The Herbalix

™

Sea Blend Preservative System is formulated to enhance natural skin health and vitality. It also serves as our exclusive preservative system throughout the entire Herbalix Restoratives product line. The Herbalix Preservative system passes the following USP29 NF24 2006 acceptance criteria for Category 2 Products. 99.999 effectiveness against Aspergillus niger, Candida Albicans, Escherichiacoli, Pseudomonas Aeruginosa, and Staphylococcus Aureus. Herbalix Restoratives

™

exhibits at the American Academy of Dermatology (AAD) and is recognized and recommended by dermatologists.
WHO SHOULD USE NO ADDED FRAGRANCE SUPREME SOLUTION MOISTURIZER?
It is formulated for all skin types.
DIRECTIONS
Use a pea size amount and allow to absorb fully into the skin. Re-apply as needed. Store away from direct sunlight or high heat.
TOP
A daytime deodorant formulated for men, women and teens. Helps reduce perspiration odor and bacteria on the skin's surface.
BEFORE USING NO ADDED FRAGRANCE DEODORANT, IT IS IMPERATIVE THAT YOU USE OUR NIGHTTIME CLEANSING DETOX DEODORANT TO PURGE YOUR UNDERARMS OF TOXINS; OTHERWISE, YOU WILL NOTICE A BODY ODOR DUE TO THE TOXINS THAT ALREADY EXIST IN THAT AREA.
BENEFITS
Provides lasting protection




goes on clear, smooth and easy




Won't clog sweat ducts




Reduces odor-causing bacteria on the skin




Excellent for chemically sensitive skin



KEY INGREDIENTS
ARROWROOT (Maranta Arundinacea) is used to absorb moisture.
OLIVE OIL (Olea Europea) contains protein, minerals and vitamins. Superior penetrating power.
RICE STARCH (Oryza Sativa)is a demulcent and emollient. Rice starch provides soothing protection when applied to the skin. It is known to help replenish damaged skin. It does not cause the skin to dry out.
SHEA BUTTER (Butyrospermum Parkii) contains high content of unsaponifiables (steric and oleic acids) and cinnamic esters known to have moisturizing properties. Protects skim from the effects of dehydration and other climate changes.
WHO SHOULD USE NO ADDED FRAGRANCE DEODORANT?

The No Added Fragrance Deodorant is formulated for all skin types.

DIRECTIONS

Use on dry, clean underarms. We advise 2-3 swipes per underarm per application. Do not use any other products under the arm like lotions, oils and commercial antiperspirants or perfumes. Store away from direct sunlight or high heat.
TOP
A gentle non-irritating Nubian Goat's Milk Soap with skin beneficial nutrients which leaves skin looking younger.
BENEFITS

Total skin care including facial cleansing

alpha-hydroxyl acids naturally help neutralize free radicals

Contains peptides that support natural collage production and leave skin looking firmer, while reducing lines and wrinkles

KEY INGREDIENTS

WHOLE NUBIAN GOAT'S MILK is uniquely different from cow's milk in the concentration and form of its nutrients. It contains 13% more calcium, 25% more vitamin B6, 47% more vitamin A, 134% more potassium and 350% more niacin. It penetrates the skin and helps cleanse pores and hair follicles. it is made up of the essential fatty acids linoleic and arachnodonic acids and a higher proportion of short chain and medium chain fatty acids than cow's milk.

ROSEMARY (Rosemarinus Officianalis) is used for its antimicrobial properties.

SWEET ALMOND OIL (Prunus Amygdalus Dulcis)contains glycosides, minerals and vitamins rich in protein. Compatible with all skin types.
WHO SHOULD USE NO ADDED FRAGRANCE SOAP?
No Added Fragrance Soap is formulated for all skin types.
DIRECTIONS FOR USE
Rinse your face with warm water. Lather well and rinse thoroughly. To remove make-up, repeat application with a wash cloth.

TOP