NIGHTTIME CLEANSING DETOX DEODORANT




WHAT IS NIGHTTIME CLEANSING DETOX DEODORANT?
CLEANSE, DETOX AND DEODORIZE WHILE YOU SLEEP
WHY SHOULD I USE NIGHTTIME CLEANSING DETOX DEODORANT?
NIGHTTIME CLEANSING DETOX DEODORANT INGREDIENTS
HOW DO I USE NIGHTTIME CLEANSING DETOX DEODORANT?
HOW DOES NIGHTTIME CLEANSING DETOX DEODORANT WORK AND IS IT SAFE?



What you put on your skin matters. From dirty air and environmental toxins to nourishing creams, what is absorbed through the skin is transported throughout our bodies. The skin is the largest organ of the body; it is non-filtering and provides many layers of protection. Skin also responds to changes such as temperature, hormones, diet and stress. Herbalix Restoratives™ is an eco-friendly company that develops natural organic personal care products offering therapeutic balance for skin and hair, which are recommended by doctors and other health care professionals. These formulas contain no harmful preservatives, petroleums, or synthetic ingredients. This is why Herbalix offers organic and natural alternatives to synthetic chemical and environmental irritants. The products I am about to share with you support these functions with pure, natural and organic ingredients that cleanse and revitalize, while feeding the skin and hair vital nutrients. This proprietary blend consists of certified and wild crafted medicinal grade essential oils, herbs, flowers and minerals from land and sea that are painstakingly prepared over a period of several months.

Herbalix™ Botanical and Sea Vegetable Blend works comprehensively with kelp, coriander and olive leaf to promote the body's own natural, healing rhythms.

This complex and potent proprietary blend is a major key to the effectiveness of these products. It synergistically boosts the action of all the ingredients used and works as a superb organic preservative which is made from 60 energetically live herbs and sea vegetables from the world's oceans and three continents, complete with Omegas 3, 6 and 9. This enables the development of these safe and stable hybrid formulas which has been scientifically proven to be 99.99 percent effective in reducing germs.

These products are suitable for the chemically sensitive and anyone concerned about chemicals in their personal care products. They are made in a state of the art lab using manufacturing equipment consisting of stainless steel tanks, paddles, and piping. No plastic, silicone, and other harmful components are used. The final result guarantees the integrity of these specialty products.

Herbalix makes aluminum-free Nighttime Detox Cleansing Deodorant cleanses and deodorizes while you sleep, organic daytime deodorants, Nubian goat's milk soaps, skin moisturizers, shampoos and more. These products are synthetic chemical and petroleum-free without parabens, phthalates, fillers, emulsifiers, synthetic fragrance or color, or anything derived from petroleum.
TOP
Nighttime Cleansing Detox Deodorant Is An Effective Nighttime Cleansing Detox Deodorant Formulated to Help Purge Metals; Impurities Accumulated In The Armpit Area.

If you have been using a commercial deodorant or antiperspirant, check the label to see if it contains any type of aluminum, alum, petroleum or propylene glycol, any of which can lead to the buildup of chemicals under your arms. This can result in irritation, hygiene problems, or worse. Nighttime Cleansing Detox Deodorant cleanses away buildup to release waste fluids, supports healthy lymphatic flow and absorbs all types of aluminums, encouraging a reduction in daytime odors.
TOP
CLEANSE, DETOX, AND DEODORIZE WHILE YOU SLEEP
Nighttime Cleansing Detox Deodorant is formulated to attract, absorb and cleanse bacterium and metal ions from the underarms without any form of aluminum. Pure, organic detoxifying ingredients work at night and provide 6 to 8 hours of safe and efficient absorption of accumulated debris and odors. Initially a period of 30 nights is recommended, followed by a maintenance program of 2-4 times a week. Herbalix Tm Botanical and Sea. Eve table Blend works comprehensively with kelp, coriander and olive leaf to promote the body's own natural healing rhythms.


Enhances flow of waste fluids

Helps control underarm pH

Key organic botanical ingredients help attract metals and residues

Encourages a reduction in daytime odors


Effective for both men and women
TOP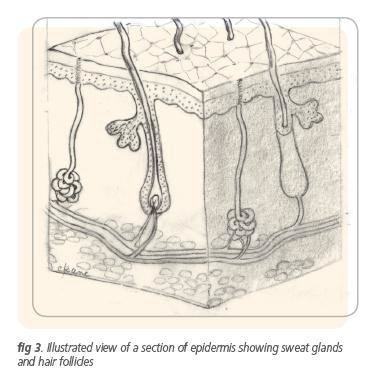 The human body excretes waste materials through urine, stool and sweat. Some wastes are not completely excreted and remain trapped in the body. Regular cleansing helps the body function properly.
Beeswax (Cera flava)

*Coconut Oil (Cocos nucifera)

*First Pressed Extra Virgin Olive Oil (Olea europaea)

*Sweet Almond Oil (Prunus amygdalus dulcis)

*Cocoa Butter (Theobroma cacao)

Shea Butter Sustainable (Butyrospermum parkii)

*Coriander (Coriandrum sativum)

*Arrowroot (Maranta arundinacea)

*Tapioca (Cassava derived)

*Olive Leaf (Oleae europaea)

*Kelp (Laminaria digitata)

*Rosemary (Rosmarinus officinalis)

Herbalix™ Organic Preservative consists of over 60 herbs.

*Certified Organic
Leave Nighttime Cleansing Detox Deodorant on your bed stand. We recommend that it be applied nightly to clean, dry underarms prior to bedtime. Just as the daily brushing of your teeth to remove plaque is critical to good dental hygiene, nightly use of Cleansing Detox Deodorant is important in combating the bio accumulation of aluminum and other impurities in the underarms. Cleansing Detox Deodorant can be safely applied topically to the skin anytime. No fasting is required.

Cleansing Detox Deodorant may start to work after one application. Many factors contribute to the cleansing process. It may require additional time for your body to eliminate trapped impurities. For best results, we recommend Cleansing Detox Deodorant for nighttime use and Geranium Rose, Tropical Cove Deodorant or No Added Fragrance Deodorant for daytime use. We do not recommend applying any other products with the Cleansing Detox Deodorant such as: powders, lotions, perfumes, oils or other commercial deodorants or antiperspirants.

A 2.5 oz container may last up to two or three months. We recommend applying 2-3 swipes to clean underarms nightly. With the every day absorption of impurities, the need to cleanse will never diminish. Cleansing Detox Deodorant is safe to use on a regular basis as a cleansing maintenance program.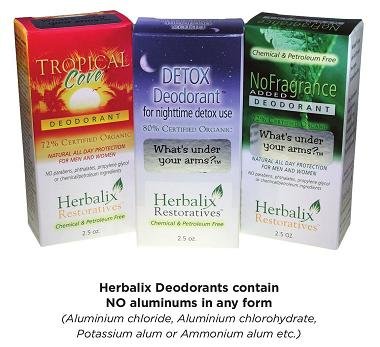 Nighttime Cleansing Detox Deodorant is designed to cleanse unwanted debris and impurities, in a two step process when used in combination with either Geranium Rose 2.5 and .47 ounces, Tropical Cove 2.5 and .47 ounces, or No Added Fragrance 2.5 and .47 ounces, daytime deodorants.

Initially you may experience a heavier than normal degree of odor and perspiration, resulting from trapped impurities. Depending on lifestyle choices such as diet and exercise, it may take up to 30 days to notice a reduction in day or nighttime body odor. Nighttime Cleansing Detox Deodorant is best used in a continual maintenance program. By doing so, conditions of odor will be minimized.


The graph below illustrates the balance reduction of aluminum in one week using Nighttime Cleansing Detox Deodorant.


Week 1
shows no deodorant was worn and the levels of aluminum were high
Week 2
antiperspirant was worn and the levels of aluminum were extremely high
Week 3
Nighttime Cleansing Detox Deodorant was worn and levels of aluminum were reduced to a safe level.
TOP









Nighttime Cleansing Detox Deodorant works using a combination of key ingredients that have been shown in clinical tests to safely remove impurities from the acrosyringium duct. Ingredients include: Laminaria digitata (kelp) which when absorbed trains-dermally results in optimum reduction of impurities and metals. Coriandrum sativum (coriander) when applied on the underarm skin traps moisture like a sponge, and dislodges buildup and Oleae European (olive leaf) which is known to be effective in cleansing and removing odors.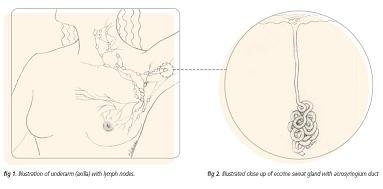 Nighttime Cleansing Detox Deodorant is non-comedogenic and noninvasive. Although individual results may vary, in a clinical test all subjects showed no adverse effect or allergic reactions. Shaving and waxing may contribute to skin irritation. Wait a day or two before reapplying.

Should a slight swelling of the underarm area occur or slight pustule development appear during the first few days of use, do not be concerned. This is a visible sign that your body is cleansing impurities. This is a temporary sensory reaction and should subside within a few days. Discontinue use if signs of irritation or pain persist. We do not recommend using Cleansing Detox Deodorant while pregnant, nursing, or for children under seven years of age.
TOP